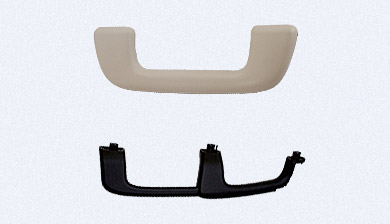 Assist grips/Long assist grips
People hold onto these grips when riding in vehicles and getting in and out of them. The current trend is for these to be retractable so that they do not stand out. Our molding technology has been highly evaluated by the Japan Society of Polymer Processing (awarded the Japan Society of Polymer Processing "Aoki Katashi" Technical Award).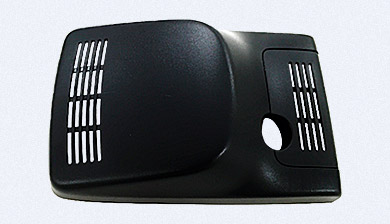 Camera Cover
Design cover for mounting driver-support cameras to windscreens. Fitted with a heat-ray heater that we have designed, to clear fog from the glass.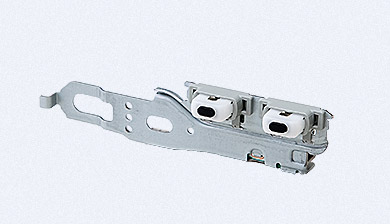 Antenna Amp
Antenna amp for digital broadcasts, mounted on the front windshield. We achieved a full-functioning amp, while keeping it compact enough to not affect the appearance of the vehicle.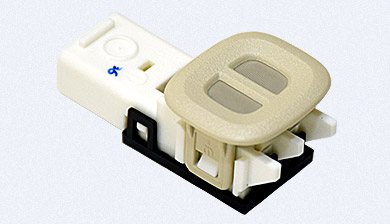 Microphone
Attached to the overhead console, converts the occupant's voice to an electric signal and transmits it to internal devices and external mechanisms.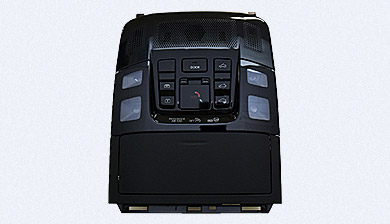 Overhead console
This product is the fusion of the know-how and knowledge we have accumulated through the development of plastic and electronic components. These components are manufactured on a compact production line equipped with a small solder tank and mounting equipment we developed. Today, these components are installed in almost every vehicle and give the cabin a high-class look.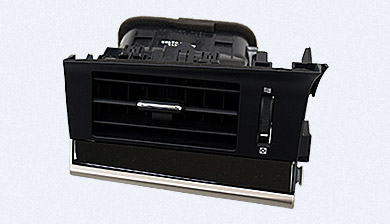 Registers
Registers are important components used as the air duct covers inside vehicles for controlling the cabin environment. We also produce swing registers with fins that move automatically.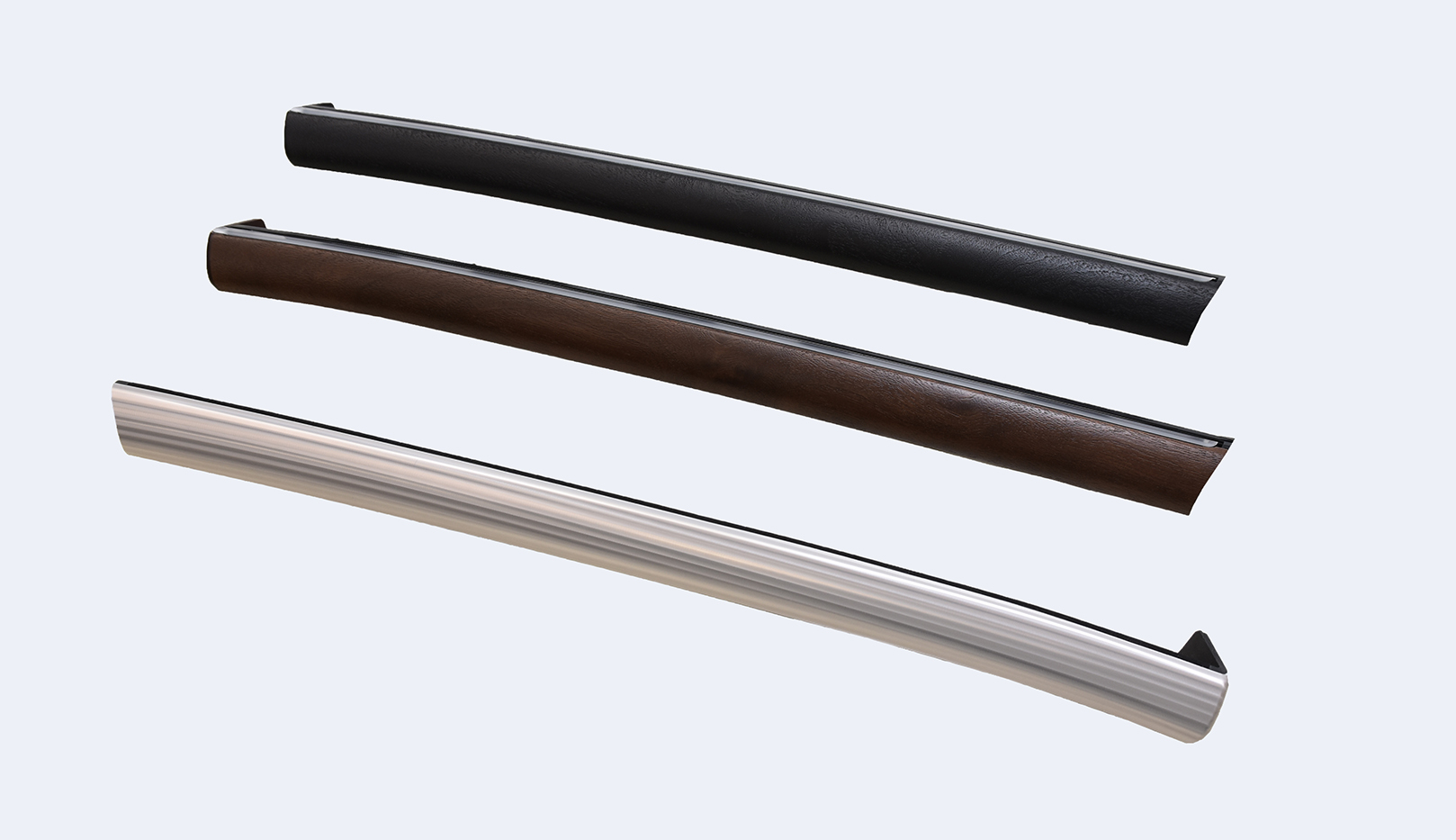 Instrument panel ornaments
Decorative parts which are installed from the passenger seat side to the center part of instrumental panel. We pursue quality in its appearance and also sense of touch on the surface in response to customer's needs. Fine beads blended in the paint leads to tiny irregularities that give it a smooth, slick surface.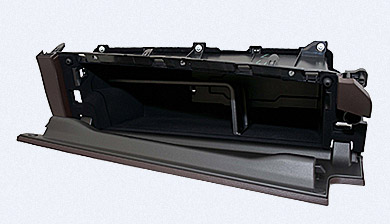 Door pockets
Door pockets are included in most vehicles to provide more space in the cabin for holding a large amount of stuff. These are seen and used by most users, and so their quality is carefully scrutinized.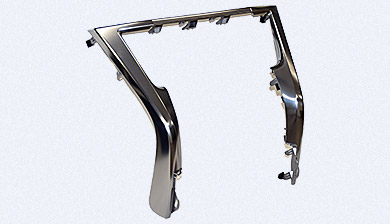 Center Cluster
Component that decorates navigation system controls, heater controls, and other controls, located in the center of the instrument panel. In recent years, for the protection of occupants, spatter is being used in place of plating to give a sense of luxury.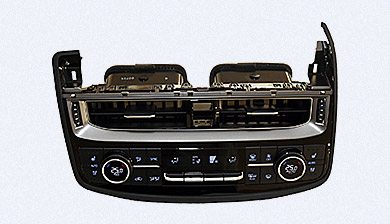 Heater control
The heater control maintains a comfortable temperature in the cabin. We develop the electronic circuits and produce the design, including the look of the nighttime lighting. We produce two types: a digital heater control and electric push-type heat control.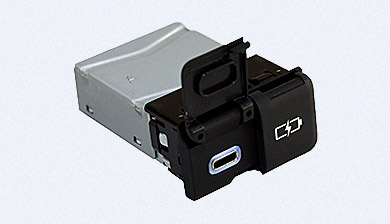 USB sockets
As smartphones and tablet PCs grow in popularity, USB sockets, designed for battery charging, were installed in Toyota car for the first time.
Equipped with a model recognition system, rapid charging up to 2.1A is possible for every model, as well as allowing quick charging.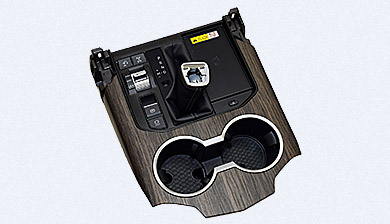 Upper Console
By setting the layout of items we would want to keep within reach, such as trays and cup holders, and adding decorative elements to suit the vehicle concept, we are working to enhance the product appeal of vehicle interiors.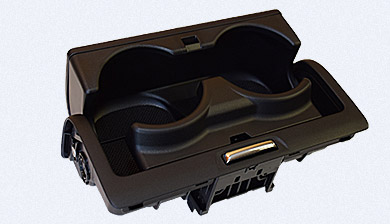 Cup holders
We produce a wide variety of cup holders, including push types. We studied the shapes of plastic bottles around the world and developed a mechanism to keep the bottles from falling over. Cup holders with illumination have appeared recently, and we continue to develop these products to meet user needs.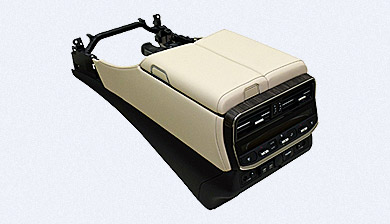 Box sub assembly console
We fit armrests and storage boxes that feel good to the touch and offer a variety of lid open-close mechanisms that balance function and design.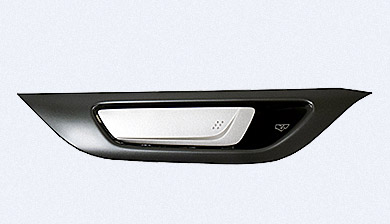 Electronic inside handles
Products that open the vehicle door from the inside. Door lock is operated by electric control with a switch, and the door opens and closes in one motion. They are also equipped with a function that allows the door to be opened and closed physically in the event that the electricity is down.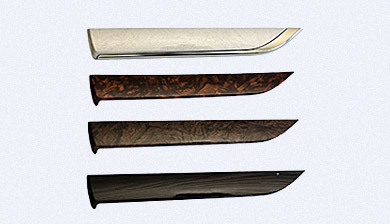 Decorative panels
Products fitted to the door trim. Depending on the model and grade, the cabin interior consists of a variety of decorative touches, including real wood, film, aluminum, water transfer printing, spatter, and paint.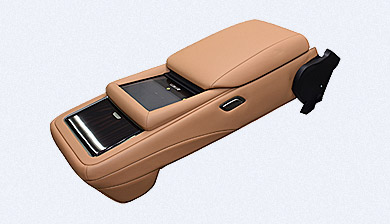 Rear seat center arm rests
The product is installed in the rear seat with many diverse features, including arm rest, storage box, cup holders, and USB jacks.